Tatwah Technology Co., Ltd.
Production
Tatwah Technology Co., Ltd. factory, with a production surface of 20'000+ square meters has produced and delivered hundreds of millions of cards and tags and it is hence evident to classify TATWAH as a key actor within the RFID industry. Production capacity for data carriers has been demonstrated as being in excess of 1 million cards and tags per day. Facilities are recent, of excellent design and purpose built for true mass production.
Research & Development
Our R&D team composes with :
Engineers with proven skills in electronics, materials and foremost production processes
Inhouse capability of testing, encoding and special formatting software generation
Professional QA staff with know-how of relevant standards, product testing and product qualification procedures
Extensive background in very varied RFID applications and related best pratice for their most suitable data carriers
Mastering state-of-the-art products, embracing Bluetooth® Beacons, MANGO® TrusTag and customised credentials
Skilled project managers, able to follow complex product developments in close coordination with customers
Quality
The origin of Tatwah Technology Co., Ltd. quality comes from :
Automation, which is a high priority investment
Selection of premium quality raw materials
High skilled experienced employees from R&D to production
State-of-the-art equipment and qualified Engineers for the quality standards checks
Detailed and documented process flow from the beginning of the production to the final check of the product
Qualifications
Tatwah Technology Co., Ltd. is certified for :
Back Office in Switzerland
Tatwah Technology Co., Ltd. ensures a back-office for :
Connecting customers to factory and increases transparency, provides insights to how and "why so" products are made
Speeding-up the exchange of information, evaluate alternative production concepts, perform value engineering, define testing and follow-up prototyping
Building the bridge to overcome cultural differences between Asia (major production site) and the western world with its specific product requests
Who We Are
Tatwah Technology Co., Ltd. is :
Among the ten largest producers of RFID data carriers with ISO 9001 and 14001 qualifications
A horizontally integrated factory (everything under one roof) with about 560+ employees, dedicated to mass production of products with a fair price
A supplier of RoHS and REACH compliant cards and tags to key-accounts with which, against whom the factory does not compete
Addressing a worldwide public of technically competent customers for RFID credentials who need new and better " consumables "
Making more than half of the revenues outside China
The owner of the MANGO® brand name for its products
MANGO® Brand Story
The MANGO Logo is recognized as a reference for a wide product portfolio, found all over the world. MANGO® stands for good quality RFID tags and cards, manufactured and assembled in large volumes under one roof and strictly monitored for fitness to use and customer's taste.
Popular in Asia, the MANGO® brand name is also protected in several countries outside China. Despite observed misuse, the brand stands for trustworthiness when products are procured from authorized parties.
Where We Are
Tatwah Technology Co., Ltd. (in China)
Headquarter
No. 9 Shuiyi South Road, Taifeng Industrial Park, XiaolanTown, Zhongshan City, Guangdong Province, China 528415
tatwah SA (in Switzerland)
Back Office
Rue de Lausanne 47  CH-1110 Morges
Switzerland
Environment & Policy
| | |
| --- | --- |
| | Tatwah Technology Co., Ltd. products are RoHS and REACH compliant. |
| | Tatwah Technology Co., Ltd. cares for employees, complies with new labour laws and offers modern and safe working conditions. |
| | Tatwah Technology Co., Ltd. bundles efforts in energy consumption reduction, waste elimination and low emission processes to contribute to a cleaner world. |
| | Tatwah Technology Co., Ltd. carefully selects materials and processes to meet stringent requirements. Both its R&D staff and Q-personnel use state-of-the-art methods and equipment to develop, qualify and test products. |
Morges, Switzerland – January 19, 2021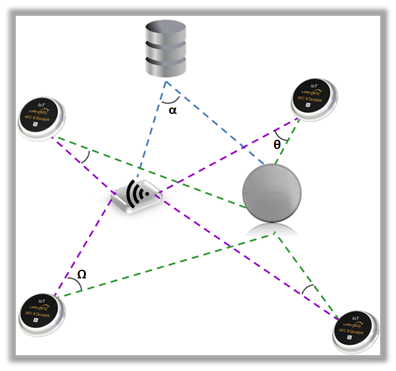 The software solution features the Quuppa Intelligent Locating System™ for asset tracking and monitoring applications.
read more…
Morges, Switzerland – October 7, 2020
https://wirepas.com/tatwah-joins-the-wirepas-ecosystem/
read more…
Morges, Switzerland – September 23, 2020
Tatwah, a market leader in the world of Bluetooth® Low Energy beacons, Quuppa and Wirepas tags, enriches its product offer with a new true ultra-low power and miniaturized Bluetooth® Low Energy beacon for asset tracking in hospitals, healthcare but as well logistics and item management use cases.
read more…
CONTACT
Thank you for taking time to fill out this form :
(fields with * are mandatory)