WIREPAS 5.1-IT004 INDUSTRIAL COIN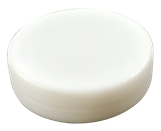 Description – Application
The WIREPAS 5.1-IT004 INDUSTRIAL COIN is compatible with Wirepas5.1 technology and it is designed to full fill all requirements for asset tracking in hospitals, healthcare, logistics, item management use cases.
Thanks to its ultra-low power consumption, and its replaceable battery the beacon guaranties un-surpassed lifetimes up to 5 years.
Its high precision accelerometer sensor permits to detect any movements, vibrations, shocks or a specific fall. The accelerometer parameters are configurable in order to adjust them to the final needs of the application.
The coin offers also a push button and two LEDs (red and green color). Company logos, QR codes or serial numbers could be printed on the upper side of the device.
An optional NFC Forum Tag type 5 permits to store data like MAC addresses or asset data.
Options
The WIREPAS-IT004 INDUSTRIAL COIN can be laser engraved or silkscreen printed such as for exemple Company logos, QR codes or serial numbers.
Additional optional features can be added such as temperature sensor and NFC Forum Tag Type V.
Characteristics
Technology

Wirepas 5.1 protocols supported

Accelerometer sensor

Two LEDs: Green and Red color

Switch

Standards

Bluetooth® Low Energy V 5.0

Wirepas Mesh V5.1

Optional ISO/IEC15693 (NFC Forum Tag Type 5), ISO/IEC14443

Battery Lifetime
Up to 5 years depending on the Wirepas-IT005 parameters
Reading Range

Up to 100 meters for Wirepas

LOS of 200 meters

Accelerometer Sensor
User-selectable full scales of ±2g / ±4g / ±8g / ±16g and is capable of measuring accelerations with output data rates from 1.6 Hz to 1600 Hz
Dimensions
Diameter : 32.6 mm – Thickness : 8.7 mm
Material
ABS & PC and Strong industrial proven adhesive for fixation
Thermal Properties
– 30 to + 60 °C / – 22 to + 140°F
Chemical Properties
IP65 (1m, 24h)
Certificates
RoHS & REACH conform. Conflict free sourcing www.conflictfreesourcing.org
FACTSHEET request
Thank you for taking time to fill out this form :
(fields with * are mandatory)